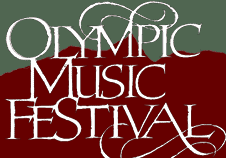 If you enjoy pastoral scenery, open air, and beautiful, classical music, then Quilcene's Olympic Music Festival is just the thing for you!
The Olympic Music Festival is an annual series of eleven, summer chamber music concerts held on a converted farm on Washington's North Olympic Peninsula.
Started in 1984 by ex-Philadelphia String Quartet member Alan Iglitzin, the Olympic Music Festival was originally intended to be the summer home for the Philadelphia String Quartet, who had come to Seattle in 1966 as the University of Washington's Quartet-in-Residence. Attendance of these first summer concerts, however, made it clear just how hungry Northwest audiences were for the combination of the setting and music.
The Olympic Music Festival celebrates its 30th year this season, a success demonstrated most clearly by the number of people – over 10,000 a year! – who attend the series of concerts and the caliber of internationally-renowned, classical musicians who come from around the globe to perform.
Held on a 55-acre, turn-of-the-century farm, attendees of Olympic Music Festival often make a day of the concerts, roaming the idyllic setting of the festival before settling in at a picnic table to relax and enjoy the beautiful chamber music that emits from the Olympic Music Festival's iconic barn turned to stage.
Come experience the magic and majesty of the Olympic Music Festival – there are still plenty of concerts left in the 2014 season:
July 19 – 20 – Beethoven: The Three Eras
July 26 – 27 – Magnificent Mozart
August 2 – 3 – Bach & Mendelssohn: Connections Through Time
August 9 – 10 – Influences & Inspirations
Haydn, Ravel, Schnittke, and Arensky
August 16 – 17– Beethoven: The Glorious String Trios
August 23 – 24 – Beethoven Festival: The Final Years
August 30 – 31 – Dramatic Moments in Chamber Music
Tartini, Shostakovich, and Brahms
September 6 – 7 – Virtuosi in Recital
Schubert, Stravinsky, Falla, Debussy
2014 Olympic Music Festival
For full details, directions to the festival grounds, and tickets to the remaining concerts, be sure to visit www.olympicmusicfestival.org.
Olympic Music Festival Wineries
What compliments chamber music better than fine wine? Nothing, that's what – and when you come to the Olympic Peninsula for the Olympic Music Festival, you're also in the perfect position to pick up some fantastic, local wines and ciders from our Olympic Peninsula Wineries member wineries and cideries! Stop by and pick up a bottle or three before the concert to make your Olympic Music Festival experience all the better!