Vineyards
Washington State Vineyards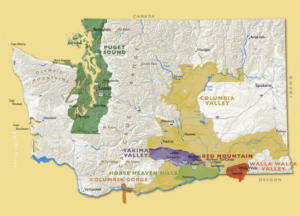 Don't want to spend days traveling all across the state to taste grapes from some of Washington's most celebrated growing areas and Washington State Vineyards? We have it all here for you within an easy drive.
While climates of individual Washington wine regions differ dramatically, Western Washington, with its moderate climate and lack of extreme temperature swings is an ideal place in which to make wine.
Since the Puget Sound area produces only about 1% of the states' wine grape harvests nearly all the winemakers in Western Washington bring a large portion of their grapes in from the arid growing regions a few hours away in the eastern half of the state.
A recent report from Wine Press Northwest Magazine listed their top ten rated vineyards in Washington State. Listed below are some of the many vineyards that supply the various Olympic Peninsula Wineries with premium grapes. Those vineyards with a star (*) are from this list of the top ten.
We want to thank all the dedicated growers, locally and around the state, for their outstanding contributions to our own wines and their continued commitment to premium wine growing in Washington State.
Vineyard
Appelation
Grapes
Winery
*
Bacchus Vineyards
Columbia Valley
Cabernet Franc, Merlot, Cabernet Sauvignon
Harbinger Winery
*
Bacchus Vineyards
Columbia Valley
Merlot, Cabernet Franc
Olympic Cellars
Coventry Vale
Columbia Valley
Reisling
Olympic Cellars
*
Dionysus Vineyards
Columbia Valley
Cabernet Sauvignon
Olympic Cellars
*
Sagemoor Vineyards
Columbia Valley
Syrah
Harbinger Winery
*
Sagemoor Vineyards
Columbia Valley
Syrah
Olympic Cellars
*
Stillwater Creek Vineyard
Columbia Valley
Chardonnay
Harbinger Winery
Alder Ridge Vineyards
Horse Heaven Hills
Zinfandel
Olympic Cellars
*
Champoux
Horse Heaven Hills
Cabernet Sauvignon
Camaraderie Cellars
*
Champoux
Horse Heaven Hills
Cabernet Sauvignon, Lemberger
FairWinds Winery
*
Champoux
Horse Heaven Hills
Cabernet Sauvignon, Lemberger, Chardonnay
Olympic Cellars
Dungeness Bay
Puget Sound
Madeline Angevine, Siegerrebe
Olympic Cellars
Olympic Cellars – Vineyard
Puget Sound
Madeline Angevine, Siegerrebe
Olympic Cellars
Judkins Inland Desert
Rattlesnake Hills
Cabernet Sauvignon, Merlot
FairWinds Winery
Two Coyote
Rattlesnake Hills
Tempranillo
Camaraderie Cellars
Two Coyote
Rattlesnake Hills
Grenache, Mouvedre, Viognier
Harbinger Winery
Artz Vineyard
Red Mountain
Cabernet Franc, Cabernet Sauvignon, Merlot, Sauvignon Blanc
Camaraderie Cellars
*
Ciel du Cheval
Red Mountain
Viognier, Rousanne, Syrah
Olympic Cellars
*
Milbrandt Vineyard
Wahluke Slope
Cabernet Sauvignon, Syrah, Merlot
Camaraderie Cellars
Wahluke Slope Vineyard
Wahluke Slope
Cabernet Sauvignon, Syrah
Harbinger Winery
Ash Hollow
Walla Walla
Cabernet Sauvignon, Merlot
Harbinger Winery
*
Boushey Vineyard
Yakima Valley
Cabernet Franc, Syrah, Petit Verdot
Olympic Cellars
Chandler Reach
Yakima Valley
Cabernet Franc, Merlot
Camaraderie Cellars
Crawford Vineyard
Yakima Valley
Malbec, Viognier
Camaraderie Cellars
Meek Vineyard
Yakima Valley
Petit Verdot, Cabernet Sauvignon, Merlot, Cabernet Franc, Malbec
Camaraderie Cellars
Olmstead
Yakima Valley
Gewurztrraminer
FairWinds Winery