Sunshine & Wine Release
June 16th-17th (Father's Day Weekend)
In celebration of the warmer weeks ahead of us we are proud to unveil a plethora of mouthwatering and refreshing wines. Some of these tasty treats are in limited supply and won't have the opportunity to reach the public eye for more than a quick blink. Stop by at one of our nine participating wineries over the weekend to experience a special sampling of these wines.
Don't miss this extremely limited release of Summer Wines from Harbinger Winery's Small Batch Research Project!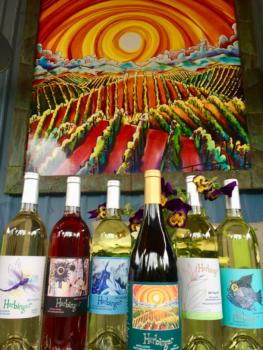 2017 Sieg-MA (a field blend of Siegerrebe and Madeleine Angevine)
This deliciously crisp and ethereal white wine was grown on the sun soaked hills of Palo Alto Road in Sequim, WA and exhibits tropical aromas of guava and crisp, zesty white grapefruit characteristics on the palate. Only 45 cases produced. $22/bottle
2016 Roussanne
All stainless fermented and aged, this wine exhibits a nice balance of acidity, elegance and aromatic complexity. The bouquet opens with the fragrance of fresh cut flowers, starfruit and sweet spice. While it carries weight on the palate, the acidity keenly checks any wayward coyness and the wine finishes extremely crisp. 40 cases produced. $19.99/bottle
2017 Pinot Gris
Just released in time for warm summer days, the 2017 Pinot Gris is sure to wake up any sleepy palate with its bright fruit and crisp acidity. There's a truism about food pairings with this grape that goes like this: "Pinot Gris and things from the sea." Enter the bounty from the Salish Sea
(that's our backyards folks): dungeness crab, halibut, salmon, shellfish….enjoy this limited wine with good friends and enjoy it often as it won't last. 90 Cases produced. $19.99/bottle
2017 La Vie en Rose'
This roguish Rhone blend consists of mostly Grenache' and Roussanne with a splash of Viognier, and is hands down a staff favorite. It has seen a bit of barrel aging which adds a caramelized flavor to all that strawberry and cherry notes zipping around. This year's blend has a clean and light personality that makes it a versatile playmate for many different personalities and events (grilled salmon, pizza, any cheese you can name, or after- work decompression
elixir…you get the picture). $19.99/bottle
2015 Grenache
This wine packs a summery punch with the truckloads of wild strawberry, plum and layers of toasted sweet spice yet remains mysteriously light and refreshing on the palate. It is the perfect summer red. This is a first ever Grenache to be bottled at Harbinger and we have a feeling it will also win the hearts of both staff and public. 65 Cases Produced. $40/bottle
Raspberry Bliss
While we usually make a limited supply of this wine each year, we experienced a nationwide shortage of Raspberries in 2017. So we only have about 60 cases to last until the 2018 berries are harvested, transformed into wine, aged, bottled and releases. In other words once this is gone we will be in a Raspberry drought until the summer of 2019…gasp! If this is a favorite of yours, stocking up might be in order. $22/bottle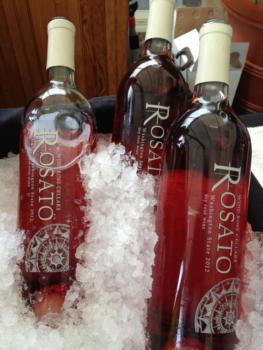 Wind Rose Cellars is excited to release five new wines:
2017 Pinot Grigio deliciously balanced rich and with more body than your typical Pinot Grigio. Great with shellfish and white fish.
2017 Rosato, dry rosé. Layers of flavor and acidity make this on of our best rosés. Great with just about any food pairing.We have also released a new label for us: Barrel select. These three wines were a very limited bottling. We only produced one barrel of each of the below wines: 25 cases of each.
2016 Carménère very rare varietal for Washington.The palate has hints of spice, licorice, cocoa and savory herbs. The wine has a finish of mocha, raspberry and black tea. Pairs nicely with herbed meats, grilled tuna and goat cheeses.
2016 Cab Franc On the palate, Bing Cherry, raspberry and vanilla are supported by smooth tannins. Plum, black tea and hints of walnuts give a lingering finish. Pairs nicely with soft cheeses, pork and poultry.
2016 Petit Verdot On the palate, the wine has bold fruit flavors of black berry, dark plum and currant. The wine has a finish of dark chocolate and ganache. Pairs nicely with lamb dishes, BBQ, and aged cheeses.
FairWinds Winery offers a "no tasting fee" weekend–no tasting fee for anyone!  In addition, we are releasing our first blush of the summer– a little sweet, a little tangy.  We are also closing our our Chardonnay line @ $12 a bottle or $120 a case.  Did i mention no tasting fee?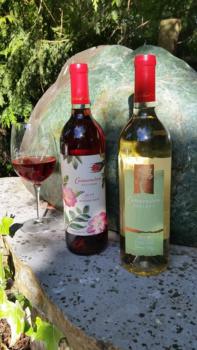 This month, Camaraderie is releasing two great summer wines:  2017 Pinot Gris and 2017 Rugosa Rose.  Also new this month is our 2014 Malbec and 2015 Dolcetto—wines that will pair well with summer picnics and BBQs.
Join us this weekend for a special summer release of Finnriver's beloved Lavender Black Currant Botanical Cider featuring organic Washington apples, organic black currant juice and locally grown organic lavender from Wilderbee Farm, Jardin du Soleil Lavender and Purple Haze Lavender. We will also be serving locals bratwurst, summer salads, wood-fired pizza, vegan ice-cream and more! Now open EVERYDAY from 12-9pm! Get your updates here: www.finnriver.com/music.
Stop by Olympic Cellars for these beauties: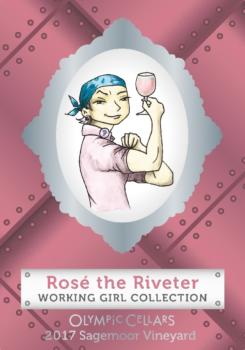 Rose' The Riveter, 2017                                                    $14.99 / Wine Club Price $11.99
Dark pink color. Fresh tasting.  Flavorful, fruity and slightly sweet, this version of Rosie tastes of fresh strawberries. A delicious Syrah Rose'. Rosie's 'can do' attitude shines through in this wine.
Cranberry Jubilee                                                             $19.99 / Wine Club Price $15.99
Bottled in limited quantities, this blend of Cranberry and Chardonnay and Riesling is medium-bodied with a fruit-filled Cranberry finish.  Tart, crisp and just a little bit sweet.  Enjoy on the  patio with a fruit and cheese plate.
Barn Nouveau Red                                                           $16.99 / Wine Club Price $13.59
A unique lighter style red blend of Touriga (50%), Souzao (25%), and Merlot (25%). This wine will pair beautifully with your summertime meals.  It tastes of berries and smoke with a lovely touch of vanilla on the finish.

Join us out at
Port Townsend Vineyards t
his weekend as we celebrate dads, grads, and our One Year Anniversary! On
Friday, June 15th
, from 5p-8p, we're having our One Year Anniversary Party with live music, lawn games, wine raffle, and food from Hama Hama Oysters and Barbarian Burgers. Free and all-ages!
We're excited to be pouring some of our summer favorites in our tasting room, open daily at
noon
, til 7 Su-Th, and til 8p Fri-Sat. We're offering tastings, flights, glasses, carafes, and bottles of our current wines: Discovery White blend, Discovery Rosé, Discovery Red blend, Chardonnay, Reserve Chardonnay, Riesling, Pinot Noir, and Syrah.